Tips For A Successful Move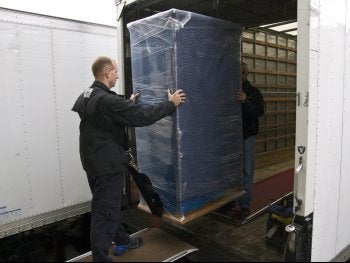 Please make sure that children and pets are a safe distance from the movers during the move process. Children and pets can become a hazard to the movers or themselves while movers are carrying large or heavy items as their viewing may be obstructed.
If we are primarily just moving you, try to be as packed and ready as possible.
Your movers will do a "Walk Through" with you before they begin moving your belongings. This will give you an opportunity to share details about your move, ie. Items that will be staying, moving to final destination, moving to storage, any additional stops, etc.
To insure all of your belongings are properly protected, please let your movers know about any items that require special care.
All jewelry, money, medications and important paperwork should be packed and handled by owner.
Please remove all items from desk drawers, cabinet and other furniture with items in drawers or on shelves. Dressers with clothing only are generally ok as your movers will pad and shrink wrap the drawers to prevent them from coming open during your move. Please keep in mind that all furniture may be tipped on end or side during the moving process.
Please be present or have someone you trust present during, both the load and unload. Be at or near the front entrance of your unload so you can easily "Direct Traffic" as your movers are coming in with your items, please let them know where you would like them placed and which rooms boxes should go. This will insure everything ends up where you would like it to.
At the end of your move, please do a walk through with your movers. You may wish to inspect the truck to make sure nothing was left behind. Carefully look to make sure your furniture ended up where you would like it and that everything is reassembled correctly, ie. Beds, dressers with mirrors, and/or shelves are put back in bookcases. We work hard to do all those things, but it doesn't hurt to double check before the movers leave.
Remember that your movers are there to help YOU! Do not hesitate to communicate any requests or concerns that arise. They will make every effort to accommodate you.
Lastly, always feel free to contact our office at (503) 621-0442 prior to your move, during your move and/or after your move with scheduling conflicts, questions, comments or for advice.
Most importantly, good communication is key to a successful move!!!
Contact us today at (503) 621-0442 to start planning your stress free move!
Why Choose Us
Experienced full-time staff
Free estimates
Local or long distance
We serve Oregon, Washington and Idaho
Affordable & Dependable
Member of the BBB