Testimonials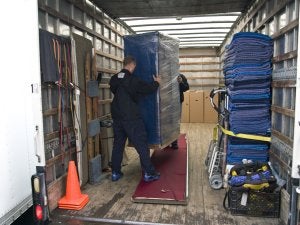 I never thought I would be able to write anything good about movers after what it took to get us to Portland but these guys are great! Their prices and policies are laid out on the website so no concerns about what was promised etc. They showed up early, were super polite, well prepared, and finished the job in half the time we expected. They took good care of our furniture and as far as I can tell nothing was broken. 180 degrees from the people who moved us here. I would recommend them to anyone and would use only them again if we moved (which we'd better not because I'm sick of it!).
---
Just take the pain out of moving and hire these guys. They are fast clean and efficient (very respectful of your property). Brian, Michael and Justin rock and are as good as it gets. Had a desk (real old school) that was heavy as all get out. They took it up my stair case (which was a switch back, never marred the wall and they placed it perfectly. They were on time and finish ahead of time bid. We were dreading this move, but I have to say the total experience was a joy.
-Mike C.
---
While I have only dealt w/ two movers in Portland, these guys are by far the best. Highly recommended for their care and attention to detail preparing the area for the move and protecting our furniture.attention to detail preparing the area for the move and protecting our furniture.
---
These guys are efficient and good. They carried really heavy stuff up and down some pretty narrow stairs without any problem except a little sweat equity. I'm choosing them for my next move next month.
---
These guys are pro's! I'm a real estate agent and I set up moves for my clients rather frequently. Needless to say, this company has acquired a new and loyal customer due to their adherence to professionalism, hard work ethic, and competitive pricing. This company is a rarity in the moving industry. I highly recommend them to anyone considering moving.
-Sherry
---
I was extremely surprised and delighted with the professionalism of these movers and how hard they worked. The move out of the old place absolutely exceeded any time frame I expected. I severely underestimated the size of my furniture and how much space I had in my new place. Upon arriving, my couch was essentially too big for the hall to get it into the condo. I think at this point, many might have just told me "sorry, you are out of luck, your couch is just too long" but definitely not these guys -they pulled out their power tools, removed the feet of the couch and then proceeded to bring the couch to the door. After many tries, with what I can only describe as geometric precision, they were able to find the one and ONLY angle and rotation that would bring the couch into the condo. In a time of declining customer service, this is truly one company that stands out in the crowd! they were superb! Thanks to Bill, Corey & Earl for a superior move.
-Julie
---
Notably good service experience
They rolled out a carpet on my floors so they weren't tracking dirt in every trip in or out of the house, they shrink wrap all of the furniture to help protect it, and the guys were really nice. I have a business too and have referred them to several of my customers, and every one of them has been very pleased. They apparently do commercial moves as well as residential, I would recommend them to anyone.
-H.C.
---
Can count on them
I have a handyman business and have not only used them myself several times but I have also referred them to customers. The rates are very reasonable, and I like that I can request specific guys and since they don't have as much turnover as other movers seem to have, I can typically get the same crew every time. One time a small amount of damage accidently happened to a wall, and they were great about getting it repaired. I feel very comfortable with this company and tell everyone I know that is thinking about moving they have to use them.
-J.C.
Why Choose Us
Experienced full-time staff
Free estimates
Local or long distance
We serve Oregon, Washington and Idaho
Affordable & Dependable
Member of the BBB