Portland Moving Services
So you've found your new home, apartment, dorm room, or office and already set a move-in date. Now what? You can't seem to shake the stress and anxiety brought on by the idea of packing and moving all of your belongings. What if something breaks? What if you leave something important behind? Don't waste any more time on worrying about your move–enlist the services of our Portland moving company today!
Need help in Oregon, Idaho, or Washington?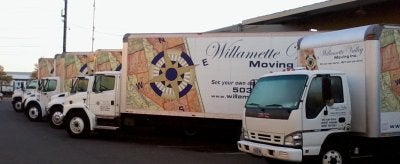 When you plan to move, you have many options. You can do it yourself, recruit friends and family, or hire trusted professionals. If you go the professional route, you will want to make sure you select a truly credible and dependable moving company. It can be difficult to select the right mover that offers the best prices and quality services.
At Willamette Valley Moving, we make it simple for you. We have been providing exceptional moving services in Washington, Idaho, and Oregon for over a decade. We only employee full-time, professional movers, giving you the peace of mind you deserve.
When you enlist the services of Willamette Valley Moving, you are trusting a company that believes in the quality of its employees, the integrity of its services, and a commitment to its customers. We work diligently to provide the perfect moving experience at an affordable price. Our company maintains an excellent rating with the Better Business Bureau. Check out the 100's of positive reviews recommending our services across Yelp, City Search & Google+. We are among the highest rated across the internet for a local moving company. We thank our customers for sharing their experience so we can serve others in our community with their full confidence!
We offer the following moving services on a regular basis:
Residential: Don't want to deal with the hassle and stress of packing up your belongings and moving across town or state? Don't sweat it! Our professional moving crew is here to handle all of your moving needs. We can pack up all of your household items, furniture, valuables, and more! Give us a call today to find out great deals and rates we offer for our residential moving services.
Commercial: Found the perfect office space for your company to grow in? Need to change locations for your business to succeed? Let us handle the moving so you can stay focused on working! We can move everything from desks to office printers.
Please contact us today at (503) 621-0442 to receive a free estimate for your moving needs.
Why Choose Us
Experienced full-time staff
Free estimates
Local or long distance
We serve Oregon, Washington and Idaho
Affordable & Dependable
Member of the BBB